Thank you SO much to everyone who came to Beautiful Days 2016. What a brilliant weekend with so many fantastic performances and despite a few showers the weather was not too bad!
We would love to hear your feedback from the festival - either email us or post on the festival facebook or tweet us, we do read everything.
If you lost anything at Beautiful Days then please email claire@beautifuldays.org to see if its been found by a fellow festival-goer and handed in, or by one of our team during the clear-up. We managed to reunite most items with their rightful owners during the weekend. Massive thanks to those who handed in expensive gadgets, phones and wallets/bags with cash during the show.
There is no information available yet about tickets for 2017 except to say they will not go on sale until the New Year. Please join the festival mailing list to be the first to get news.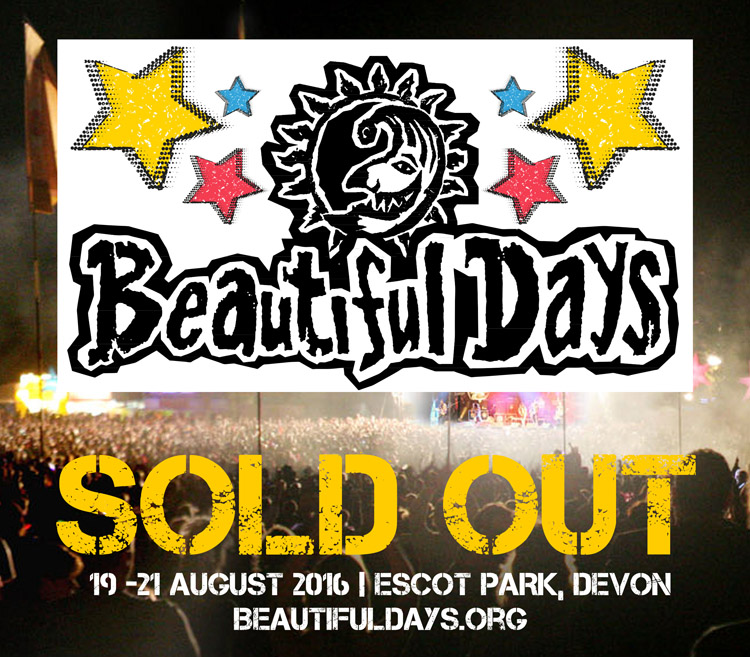 Beautiful Days won the Grass Roots Festival Award at the 2015 UK Festival Awards and Best Medium Festival in the FestivalKidz.com 2015 Awards.
Beautiful Days is the Levellers' family music festival organised by DMF Music which takes place at Escot Park in Devon with six stages, site art, a huge children's area, comedy, theatre, family camping, licensed real ale bars from Otter Brewery & a great choice of food and craft stalls. Beautiful Days has no sponsorship, branding and does not advertise.
"Its the festival that sells out every year – by simply not selling out" virtualfestivals.com